So, if you can't make it to Ireland this year, we'd recommend following the rainbow to the entertainment capital of the world for what is sure to be the luckiest night of your life. Whether celebrating looks like grabbing a cold golden beer, or shopping till you drop at the famed Miracle Mile Shops, celebrating St. Patty's Day in Vegas is sure to make your friends turn green with envy.
Sounds tempting, right? Well keep reading to find all the thrilling things to do on St. Patrick's Day in Las Vegas!
St. Patrick's Day Shopping
If you're looking to avoid the St. Patty's Day pinch, Las Vegas has a plethora of shopping options and St. Patrick's Day sales guaranteed to get you enough green for your green. Located at the heart of the famed Las Vegas Strip, Miracle Mile Shops features more than a mile of iconic retailers that are sure to satisfy every lad and ladies Irish-garb needs. If you're in need of festive St. Patrick's Day dresses to show off at the pub, check out one of these retailers:
Lad's looking for the luck o' the Irish can visit one of these shops for a variety of trendy men's apparel options: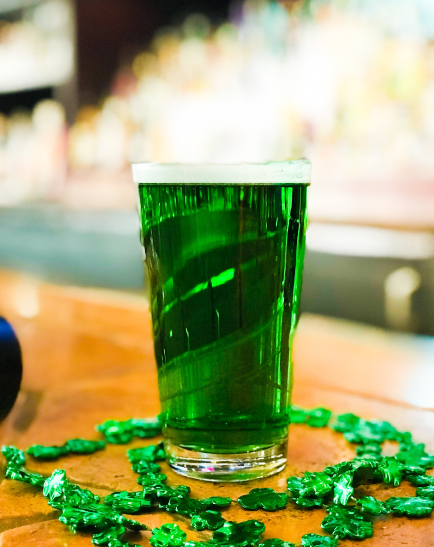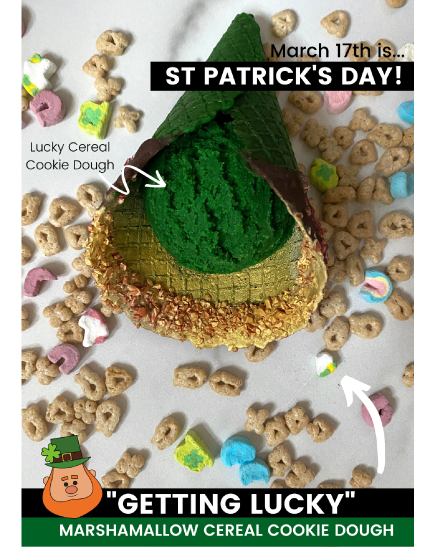 St. Patrick's Day Pubs & Restaurants
At the end of every rainbow there is a pot of gold…gold beer that is. Sin City is home to some of the best Irish-themed pubs and delectable restaurants that are sure to get your shamrocks shaking, making yet another great reason to celebrate your St. Patrick's Day in Las Vegas!
Located inside the famed Miracle Mile Shops, Blondies Sports Bar & Grill offers an unbeatable lively atmosphere, delicious drinks, classic bar food and over 60 big-screens perfect for anyone looking to celebrate St. Patrick's Day all in one place. Those choosing to celebrate St. Patty's Day Blondies' way can expect exciting St. Patrick's Day sales and specials, sure to get you feeling lucky, including complimentary Irish car bombs, swag giveaways and even a leprechaun handing out mini Jameson bottles – it doesn't get more Irish than that!
Known for serving Irish hospitality since their inception in 1976, Hennessey's Tavern is seasoned in celebrating St. Patrick's Day in grand style, literally. Offering the world's largest pint of beer at 64-ounces (no need to pinch yourself, you're not dreaming) this behemoth beverage is sure to get any daring lad or lady feeling lucky.
Sorry kids, this one's for the grownups. If you're looking for St. Patrick's Day activities for adults, take a trip to Paris' Beer Park for more holiday imbibing fun. Equipped with over 100 draft and bottled beers, handcrafted cocktails and reimagined stadium go-to's, it's no wonder the infamous Beer Park has been named one of Vegas' best rooftop bars by Thrillist, Time Out and more. And since it has beer in its name, it's hard to argue that Beer Park is probably one of the best places to celebrate St. Patrick's Day in Las Vegas. Beer Park offers a variety of entertainment options from yard games to ESPN watch parties, and if the bountiful booze and exciting activities aren't convincing enough, then maybe the iconic Strip-side views will seal the deal. If you choose to spend your St. Patty's Day at Beer Park, it won't be wasted – but you might be.
McFadden's Restaurant & Saloon
If you're in need of some festive food and libations, McFadden's Restaurant & Saloon is the perfect place for you this St. Patrick's Day in Las Vegas. Offering delicious signature cocktails and a wicked shot menu, McFadden's is sure to bring out the Irish in anybody. And if you want to avoid filling up on beer, McFadden's has a delicious Irish-inspired menu featuring pub-style classics including the Pickle Back Burger, Dublin Rolls and the Lasagna Bun Burger, sure to make your friends turn green with food-envy.
This classic boozy bar brings the lively atmosphere of Ireland to Las Vegas. Having been previously assembled in Ireland before getting disassembled and shipped to the fabulous Las Vegas Strip, Nine Fine Irishmen is the most authentic pub you can find in Sin City! From their dreamy red wood interior to their indulge-worthy Guinness Chocolate Bomb Cake and wide selection of premium Irish draft beers, Nine Fine Irishmen is truly one of the best spots to spend St. Patrick's Day in Las Vegas.
St. Patrick's Day Parties
Suit up in your green plaid skirts and shamrock necklaces (and a mask) and celebrate St. Patrick's Day at Fremont Street Experience, the six-block entertainment district located in historic downtown Las Vegas. Throughout the weekend, revelers in search of the lucky pot of gold can enjoy St. Patrick's Day-themed light and sound shows on the world's largest single video screen, Viva Vision. Feeling adventurous? Head to SlotZilla, the world's most unique zipline attraction featuring an 850-foot Zipline and 1,750-foot Zoomline, which launches riders from a 12-story slot-machine-themed platform to fly under the iconic Viva Vision canopy. A perfect St. Patrick's Day activity for adults and kids alike (no need for liquid courage)! And the party does not stop there! Fremont Street Experience's open-air promenade offers direct pedestrian access to nine world-renowned casino hotels and more than 60 restaurants and specialty retail kiosks, so grab a pint and try your luck out on the luckiest holiday of the year.