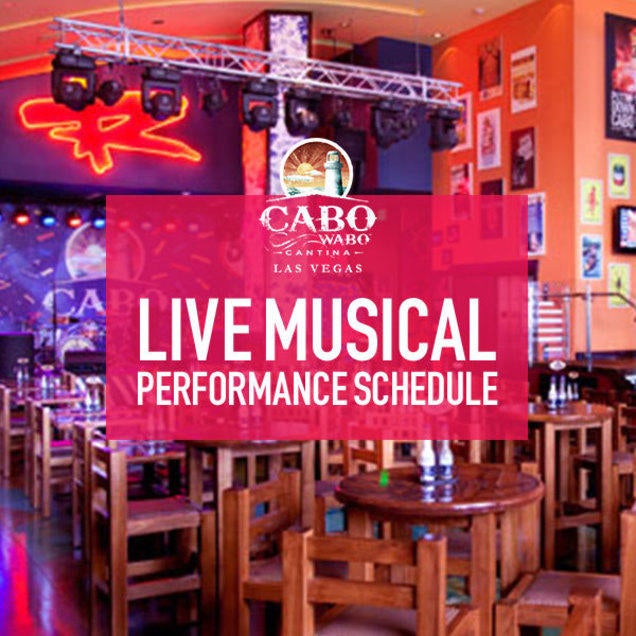 LIVE MUSICAL PERFORMANCE SCHEDULE FOR DECEMBER!
Shawn Eiferman
Date: Every Tuesday, Thursday and Saturday
Time: 7 p.m.
Event Info: A Las Vegas local musician, Shawn Eiferman has been playing music since his early childhood. During his career, he has been voted the "Best Acoustic Guitar Player" by Las Vegas CityLife Magazine and has had his music featured on television shows including "Dawson's Creek" and "Farmclub.com," as well as a Ford Motor Company commercial.

The Ryan Whyte Maloney Trio
Date: Every Wednesday
Time: 7 p.m.
Event Info: Known for being a finalist on season six of NBC's "The Voice," Ryan Whyte Maloney brings his musical talents to Cabo Wabo Cantina with The Ryan Whyte Maloney Trio. Maloney and company have toured the world, sharing the stage with artists including Tim McGraw, Ed Sheeran and Coldplay. Their experience of performing for more than 250,000 fans across the U.S. has prepared them for their career in Las Vegas.

Rein Garcia
Date: Every Friday and Sunday
Time: 7 p.m. on Fridays, noon on Sundays
Event Info: Rein Garcia is a self-proclaimed "electric Filipino pop artist," currently sharing his talents in Las Vegas. The young, rising star has traveled the world playing his music in countries including the Philippines and Singapore, which have influenced his distinct musical style. His one-of-a-kind music has recently been featured on PBS and MyLVTV.
---
Dates: December 1, 2015 to December 31, 2015
Store Name: Cabo Wabo Cantina
Suite Number: 160
Category: Dine & Drink
Phone: 702-385-2226