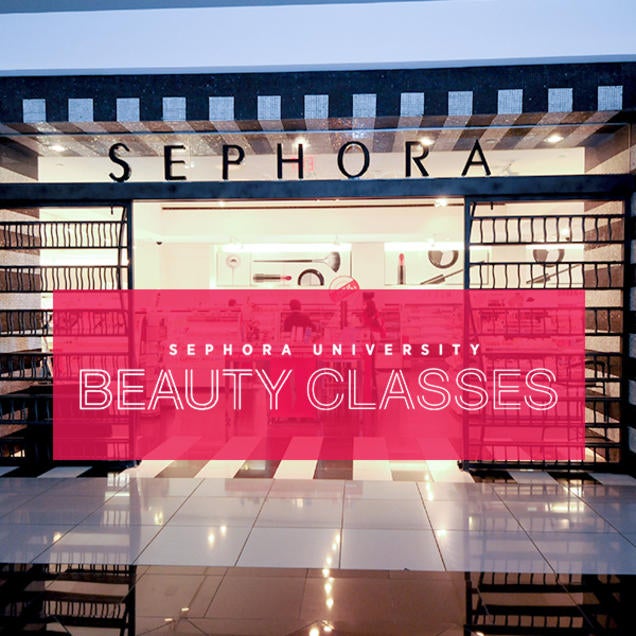 Daily Classes at Sephora
Noon - Brown Shaping
FREE. Achieve peak perfection. Determine the ideal brow length, thickness, and shape to instantly polish and frame your face. Plus, find products for brow maintenance at home. 45–60 minutes.
1:00 PM - No-Makeup Makeup
FREE. Act natural. Enhance your beauty with tips and techniques to create a fresh, effortless look with subtle makeup in soft, neutral hues. 90 minutes.
4:00 PM - Flawless Foundation with Color IQ
FREE. Get complexion perfection. Find your best foundation match with Color IQ, then learn application tips to prep, prime, and perfect your skin. Identify your best format and formula, and finish by fine-tuning your coverage with powder. 90 minutes.
5:00 PM - Contour & Highlight
FREE. Perform contouring magic. Learn expert tips for sculpting, refining, and slimming. Plus, find the best tools to highlight, shade, and blend, bringing out your best features with natural-looking definition. 90 minutes.
6:00 PM - False Lashes
FREE. Master the art of applying false lashes. Learn all the eye-opening steps from prepping the eyes to camouflaging the lash band with liner and mascara. 45–60 minutes.


---
Dates: January 30, 2018 to February 28, 2018
Store Name: Sephora
Suite Number: 140
Category: Shop
Phone: 702.737.0550