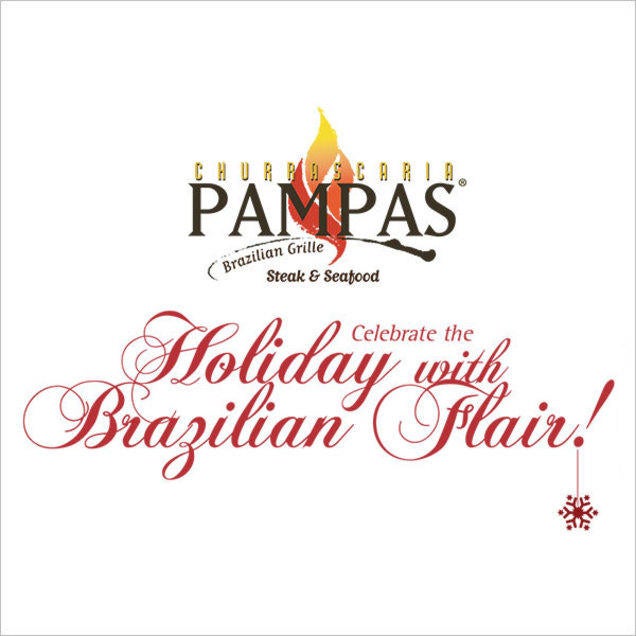 Celebrate Your holiday with Brazilian Flair!
No Need to Wait in Line for Buffets. We bring the finest food to you, Here at Pampas Brazilian Grille!

Traditional Rodizio Churrascaria
Enjoy the finest spit-roasted meats, cooked traditionally and carved right at
your table in an endless parade of flavors!

Grilled Selections*
Picanha (Pea-Con-Yah) - Noble Sirloin – our most popular cut
Alcatra (All-Ka-Tra) - Top Sirloin- tender with abundant flavors

Roasted Leg of Lamb, Filet Of Beef
wrapped in Bacon
Frango (Fran –goh) – Chicken Breast wrapped in bacon- a crowd pleaser
Lombo – Pork Leg with coriander adobo
Frango Picante – Chicken with a spicy flavor
Linguica (Ling-We-Sah) – Brazilian Sausage – very mild and spicy flavors

Grilled Pineapple and Ham
Unlimited trips to our side and salad bar.

CHRISTMAS Pricing
(Open at 11:30 AM)
Adult Pricing: $39.95
Kids 6-12 Pricing: $19.95
Kids 5 and under: Free!
---