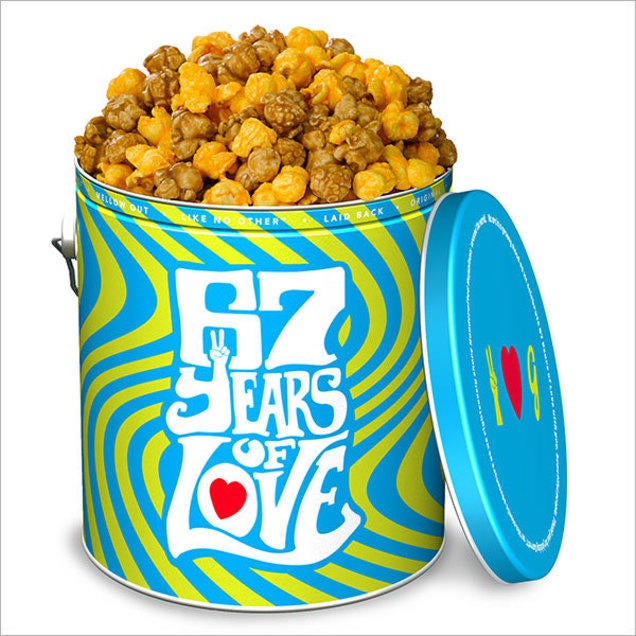 67th Anniversary Celebration
Garrett Popcorn Shops® is celebrating the 67th Anniversary of serving only the finest, gourmet Popcorn using the highest quality, wholesome ingredients in their secret family recipes. To thank their loyal fans for all of the love through the decades, Garrett® is sharing Handcrafted Happiness™ with a groovy anniversary celebration! #PeaceLoveGarrett.

67-Cent Anniversary Bags of Garrett Mix

Now through Thursday, Sept. 15 visit Garrett Popcorn Shops from 11 a.m. – 1 p.m. and snack like a super fan with a 67-cent Anniversary Bag of Garrett Mix, which originated decades ago when fans first combined the sophisticated sweetness of CaramelCrisp® with the savory goodness of CheeseCorn.

67 Years of Love Anniversary Tin

Share your love of Garrett with their special, limited edition 67th Anniversary One Gallon Tin. For one day only on Friday, September 16, purchase the Anniversary Tin filled with Garrett Mix for a celebratory price of $19.49 to honor the year Garrett popped its first small batch of snacking perfection in 1949. (Add shipping and handling when ordering online).

For more information visit www.GarrettPopcorn.com.

---
Dates: September 13, 2016 to September 16, 2016
Store Name: Garrett Popcorn Shops
Suite Number: 50
Category: Shop
Phone: 702.455.6501